One in 10 adults in the UK are now choosing to live a largely cashless life as contactless payments continue to rise. On average people in the UK make just one cash payment a month, if that. The use of notes and coins makes up only 28% of all payments and has decreased from 60% in 10 years and UK finance predicts that by 2028 the figure will be 9%.
Boost sales
Once you take your business from a cash-only business to one that accepts credit and debit cards, your potential customer base broadens significantly. Customers find it more convenient to pay by card and therefore more people are likely to purchase things from you, and the more customers you attract, the more likely you are to make more sales.
Credit cards encourage impulse buying
Customers can complete transactions quickly and easily without needing to leave to get cash out, meaning they have less time to think about the purchase they are making. Studies have shown customers often pay more when they pay with credit cards.
Quick and convenient
One in every 10 purchases in the UK are contactless and seven in 10 people in the UK use contactless in their everyday life – due to its speed and accessibility, it is the easiest way to pay in today's fast-paced society. It also allows customers to have a choice about how they pay. Contactless payments reduce queuing times, therefore, your queues will go down which is more attractive to passing potential customers and can improve your reputation.
Attract new customers
People expect to be able to pay by card when making a purchase, so by having a card system already in place you are already ahead of your competitors and could attract new customers who don't carry cash. By advertising that you accept a range of different card payments (Visa, Mastercard, Maestro and American Express), it can help to legitimise your business. Using well-known trusted brands means your new customers are more likely to trust you and come back in the future.
Secure payment
By taking card payments you are guaranteed to be paid without a doubt, and your business is also covered against fraud by their bank, protecting both you and your customer. Every transaction on a card terminal is encrypted and has 3D security and asking customers for extra security details can further reduce the risk of fraud.
Types of card terminals
Card Saver offer a range of terminals to suit the pace and style of your business, and there are currently three types of card terminals available allowing all businesses to take advantage of the ability to offer card payments to their customers.
Countertop
Countertop terminals are perfect for face to face payments that take place from a fixed place in the premises, ideal for businesses such as shops and hotels. They are designed to make quick and easy payments and can be used anywhere there is a telephone line or broadband connection.
By offering card payments to your customers you could see increased minimum spend and potentially more impulse purchases.
Wi-Fi / Portable
Portable card machines are perfect for businesses that need to take payments at numerous places around the premises, making this the ideal choice for restaurants, cafés and pubs. This terminal can be connected either through Bluetooth or Wi-Fi and accepts all card payments from contactless to Apple Pay.
GPRS / Mobile
Whether you're a retailer at an event, a delivery service or a tradesperson such as a window cleaner, a mobile terminal will speed up and simplify your customer service and cash flow.
They work in the same way as countertop terminals and accept credit and debit cards, as well as mobile payments such as Apple Pay and Android Pay. The terminal has a powerful battery and a roaming SIM card to ensure network connectivity is available wherever you may be.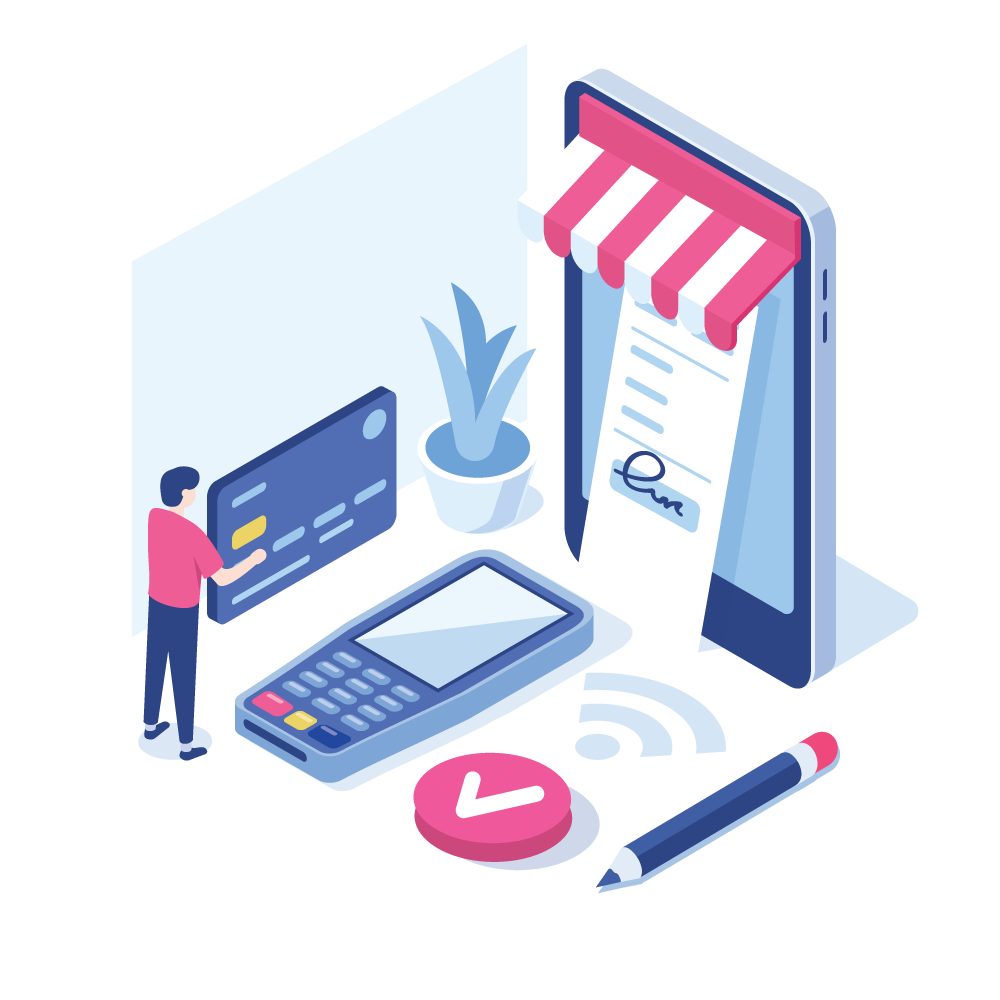 Start taking fast and secure contactless payments